January

3

2012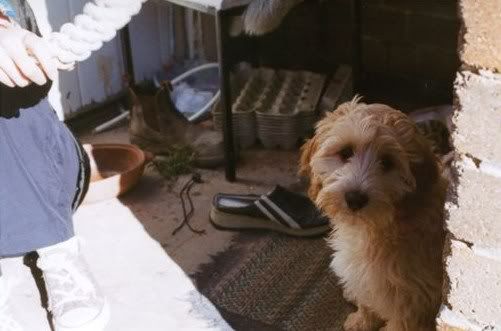 It was always my biggest wish to own a dog but I was never allowed. I would always ask/beg/plead with my parents to get me a dog but they always said 'NO'. They used many excuses "You won't look after it", "What about when we go on holidays" and "They stink". Sometimes I would daydream about my non-existent dog… What its name would be, what tricks I would teach it, taking it on walks. It was all very beautiful in thought.

For years I let it go, and accepted I would never own a cute, fluffy furbaby… and then something happened. I became obsessed with the thought of owning a dog once again. For months I researched dog breeds, behaviour types, training tips - I could've basically wrote a novel on the things I knew. By this stage I felt very strongly about owning a dog and being prepared, but I still had my parents to deal with.
I came across an ad, advertising a bunch of 'Spoodles' for sale, which was funny as I thought of them as an ideal breed (from my research 'n' all). I interrogated the owners for months about them, a golden boy in particular. I discussed the possibility of this dog endlessly with my sister, boyfriend and best friend. Sometimes I would gently raise it with my parents, which always met with an angry 'NO'. 
Finally the day came when the litter was ready to be re-homed. The night before I let my mum in on my plans - she was hesitant, but equally curious, so she took it well. I don't think many people realised how serious I was about this.  They came from Condobolin, so I met them at McDonalds (where he came to be known as Macca's Baby). After I held him, it was for certain that I would never let him go - it could only be compared to a mother and child. Instant love. He was named Bobby.

The next task was to bring him home… Bobby was hidden for approximately 2-3 days before he was spotted. He came stumbling out of the laundry when my dad found him. He took it better than expected "Sue, what is that? I said 'No Dogs'" and then he went away. Macca's baby was just too cute. Bobby and Dad are currently BFFL.

Money can buy happiness. It can also buy sloppy licks, responsibility, cuddles, endless tummy rubs and pure love.